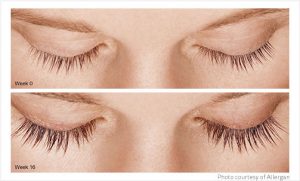 LATISSE is an FDA-approved treatment to grow eyelashes for people with inadequate or not enough lashes.
Some important do's and don'ts.
Do not apply to the lower lid or in the eye and blot excess solution with a tissue.
Only use the sterile applicators supplied with LATISSE to apply the product.
Don't allow the tip of the bottle or applicator to touch fingers or any other unintended surface, as contamination by common bacteria is known to cause infections.
Remove contact lenses prior to applying LATISSE. Contact lenses may be reinserted 15 minutes afterward.
Remember, if you stop using LATISSE, your lashes will gradually return to their previous appearance but it won't damage your natural lashes.